Place time indexed comments here...
This Is The Club Mix/Mashup Of Madonna's 'Looking For Mercy' Mixed With Full Intention's 'I Believe In You'. Its Quite Different But Relatively Happy With The Outcome.
The 3 Hour Mix 'God And Pornography (Act One)' Is Now Online To Stream @ https://soundcloud.com/user-106105054/brandonuk-madonna-god-and-pornography-act-one
There Are Loads Of Unique / New Mixes On The Set As Well As A Few Tracks From Other Fans And DJs That I Like A Lot. Please Feel Free To Give It A Try.

Hope You Enjoy It, Feel Free To Like, Comment, Or Even Support Via The Link On My Main Soundcloud Page (BrandonUK2020), It Would Be Massively Appreciated At The Moment.
Love And Light, x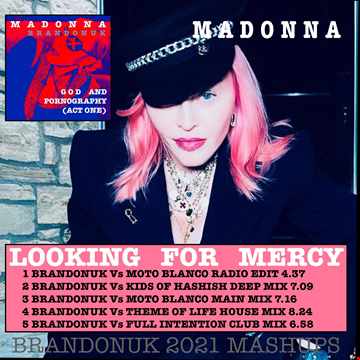 Statistics
| | This Week | Total |
| --- | --- | --- |
| | 397 | 397 |
| | 318 | 4 |
| | 6 | 6 |
| | 0 | 0 |
| | 0 | 0 |
See what others have also listened to