Place time indexed comments here...
Written, arranged and produced by BB3 Dynamics (www.BB3Dynamics.com). Vocals by Madi Di. "Cosmic Cavern A-Go-Go" cover art in Brooklyn, New York by Kenny Scharf and used with permission by Kenny Scharf. Photography and graphics by Angela Liuzzi. Mixed by Evan Sutton.
BB3 Dynamics releases his second single of 2015 entitled "Cosmic Kenny"…a playful, psychedelic and adventurous poptastic disco trip through the cosmos. Inspired by the visual art of pop surrealist Kenny Scharf (www.KennyScharf.com) and his "Cosmic Cavern A-Go-Go" events in Brooklyn, New York, "Cosmic Kenny" is an up-tempo dance song that, like the art of Kenny Scharf, conveys many universal themes including creative freedom, individuality, self-confidence, empowerment of the imagination, a life without boundaries, taking risks and living the example through colors and light. The song is also a celebration of pop culture.
While living in Texas, BB3 first experienced Scharf's art on the cover of The B52's 1985 album "Bouncing off the Satellites" and then while reading Warhol's 1991 "The Andy Warhol Diaries" in which Warhol discussed his own personal encounters with Scharf in 1980s New York City. After moving to New York City in the early 1990s, BB3 experienced Scharf's colorful art first-hand in galleries, museums and via street murals in Miami and Los Angeles. Says BB3, "Whenever I experience Kenny's art in person, an immense joy takes over as the spirited colors, objects and characters Kenny puts forth make me want to jump to the sky, which is why I wanted to write a song about Kenny."
The cover art of "Cosmic Kenny" was taken directly at one of the Kenny Scharf "Cosmic Cavern A-Go-Go" events in Brooklyn. "Cosmic Kenny" also includes lead vocals by New York singer-songwriter Madi Di (www.MadiDiMusic.com), an extremely talented soulful-pop vocalist who brilliantly accentuates the song with all its glittering synthesizer action.
About Kenny Scharf
Kenny Scharf gained prominence in New York City's East Village art scene in the 1980s for his ambitious, cartoon-like installations and paintings and his frequent collaborations with his friends, artists Keith Haring and Jean-Michel Basquiat. Scharf's fun, colorful work is both a nod to the future and a reference to past art historical movements such as Pop and Surrealism. His multidisciplinary practice exists in the realm where pop culture meets science fiction, and his imagery celebrates everything from the Jetsons and the Flintstones to one-eyed creatures, mischievous monsters, and donuts in space.
About BB3 Dynamics
BB3 is a global DJ, producer and sound designer whose high energy, boundary-pushing songs and remixes have moved international audiences on dance floors in Paris, London, Amsterdam, Berlin, Tokyo, Rio de Janeiro and states side audiences in New York, Los Angeles, San Francisco, Chicago and Miami. He is also the founder of BB3 Dynamics Music Productions (www.BB3Dynamics.com). BB3 Dynamics previous electronic music releases include "OUTTASIGHT", "It's in the Mind", and "Bionic Power (Pushing Harder, Jumping Higher)".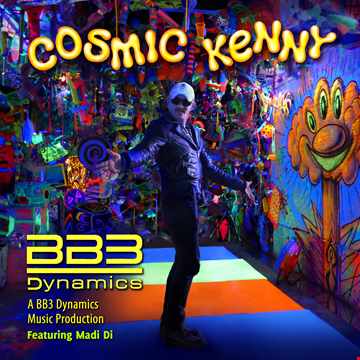 Statistics
| | This Week | Total |
| --- | --- | --- |
| | 77 | 543 |
| | 0 | 1 |
| | 0 | 1 |
| | 0 | 0 |
| | 0 | 0 |