Place time indexed comments here...
Welcome to another way out trip to the far side of groove and chill with an utterly eclectic alternative top 40, Ideal for those seeking a break from the norm. Sample packed this week - Up late & painting pictures with sound via www.soullegendsradio.com every Fri from 23.00 - 01.00am GMT. Custom Crafted musical finds from all over the planet, handpicked as we seek to find you the ideal selections with which to see in your weekends in fine fettle. Left of leftfield audible diversions from all over the shop and beamed directly to your lounging spaces with our complments! :-)
Very Nearly a DOUBLE EDITION this week of; Highly conducive laid back beats and pieces for rockers, ravers, lovers & grinners from back in the day!
DON'T FORGET EVERY SATURDAY YOU CAN JOIN US FOR CONTINUED C90 MIXTAPE CULTURE EXPLORED AND REMEMBERED THROUGH THE MUSIC COLLECTIONS OF OTHER FOLKS FROM AROUND THE WORLD. THIS WEEK IT'S EPISODE 42 WITH HANDS ON HERB & JUST ONE FALLON @ THE CONTROLS IN THE LIGHT AND DARK SESSIONS FOR #WEDIGDEEPER AND HOME OF #EXPECTTHEUNEXPECTED. 2 X 45 MINS MIXES A PIECE, PLAYED B2B, RINSED AND REPEATED OVER 3 HRS @ THE HOME OF NO RULES AND INFINTE MUSICAL POSSIBILITIES.
Turn on, tune in and wig out to a little bit of mixtape heritage with no limits or boundaries _ FROM 19.00 - 22.00GMT via
www.mixlr.com/strange-cargo-presents - Where you would be MOST WELCOME!
There's an extra (*Unaired*) BONUS nearly 2 hrs for your finale and we hope that you may find something to enjoy in here?
Please sit back, relax & enjoy............. It's chill out Cap'n, but not as we know it!!!
THIS WEEKS SELECTIONS:
SAMPLE: BBC News |
Ghosts of the Vietnam War
Acoustic Live - Mad World
| performed by Curt Smith of Tears For Fears
SAMPLE: Inspirational Poetry
|
If by Rudyard Kipling
Sol a Cancun |
Màquina Total
SAMPLE: Escape From New York
| Deleted Original Opening
The Mighty Boosh
| Isolation (Album Version)
SAMPLE: Charles Bukowski
| on Being Alone
Living In A Ghost Town
| The Rolling Stones
SAMPLE: Britain
| in The 50s
SAMPLE: Getty-Images - Traffic - City Gents - Landmarks
|
London In The 1960s
Easy On You (Live)
| The Interrupters
SAMPLE: Bukowski
| Crappy Life
Left Of Center
| Suzanne Vega
SAMPLE: Raw Footage + Deleted Scenes | BONUS FEATURES | The Inbetweeners
Spider
| Blow Ya Mind (UK 1966)
SAMPLE: The Twilight Zone
| Radio Dramas, Volume 1
Santo Domingo (Lumbini Sessions)
|
Rodrigo y Gabriela
All My Loving (The Beatles)
| Amy Winehouse
SAMPLE: S5 E6:
| Bukowski Reads Bukowski
SAMPLE: Resonance: Beings of Frequency
| (FULL DOCUMENTARY)
GOLDIE LOOKIN CHAIN
| the lost tapes 1
Strange Walking Man
| Mandrake Paddle Steamer
A poke in the eye with a burnt stick // 70s Uk Psych Prog unreleased Acetate
|
JOY
SAMPLE: WWII Pilots 1
| The Armstrong and Miller Show
What I Like Most About You Is Your Girlfriend
|
Special AKA
SAMPLE: London Street Scenes
| (with real era sound)
1930
SAMPLE: BBC Three
| Noel and Julian Open Mighty Boosh Night
Blue Song
| Mint Royale
SAMPLE: Witchcraft and Magic
| Occult Lecture
Sunflash and Bublay
| The Mighty Boosh
SAMPLE: Fielding
| on getting told off in Centre Court
SAMPLE: Introduction Music
| Taken from The Mark (1961)
SAMPLE: GI Junkies:
| The Forgotten Veterans
DE COSTAS PRO MUNDO
| FERNANDA PORTO
CATFISH BLUES
| ROBERT PETWAY
I'm Gonna Dig Myself A Hole
| Arthur "Big Boy" Crudup
GINGA DE BALE
| TIMBALADA
Booker t and the mgs
| Soul Clap 69
Marie-Josée Vilar | L'Italie a" 1978 L'Escargot
Leopard Ray (1984)
| Thompson Twins
Prince_Josh-
| Asha_(feat._Cold_Specks)
Ripped Open By Metal Explosions
| Galt Macdermot
The Main Ingredient
| Summer Breeze
Big Black Funky Slave
| Eddie Simpson
There's A Ghost In My House
| R. Dean Taylor
Let's Have A Good Time Tonight
| Piano Red A.K.A. Dr. Feelgood
The Who
| Magic Bus (Long Version)
THE FUSIONIST
|
T. J. REHMI
Major Tom
| Völlig losgelöst
The Brian Jonestown Massacre
|
Pish
The Forest (Trentemoller Edit)
| The Cure vs Nina Simone
What Difference Does It Make
| The Smiths
COUP DE COEUR [AUSTRIA]
| DEISHOVIDA
BOSSA NOVA, NE?
| LUIZ MACEDO
Track 04 Promiscuity
| Unknown Artist
Carlos Libedinsky°-°
| Esa Mujer
Track 04 Where You Wanna Be
| Dust Remixes (Roots Manuva Remix)
Drum Song Dub
| Prince Jammy & Jackie Mittoo
DUB ZONE
| JA MAN ALL STARS MEET KING TUBBY
Revenge of the Number
| Portishead
Tom, Dick 'n' Harry
| Big Al Sears
Track 17-The_Album_Leaf
| -Prep
tunng - This Is...Tunng - Magpie Bites and Other Cuts
| Track 09 Clump
Vie D'esperance (2013)
|
Slow Machete
Sent for Ducklings Got Ducks
|
Equiknoxx
Track 03 Our Man In Istanbul | Unknown Artist
Forward ever + Dub (Scoops 10")
|
Splitz Horns
Higher Frequency
| Deejay Earl
The Ballistic Brothers
| I'll Fly Away
Lament
| Badmarsh & Shri
Track 08-Lake_Haze-
| Radius_X34
LAHILAH EXPRESS
| GNAWA IMPULSE
Just Wanna Be
| Carlito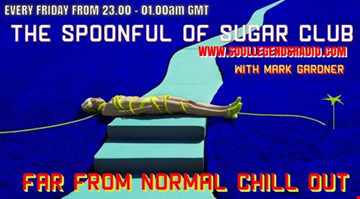 Statistics
| | This Week | Total |
| --- | --- | --- |
| | 16 | 374 |
| | 0 | 7 |
| | 0 | 2 |
| | 0 | 2 |
| | 0 | 1 |