Place time indexed comments here...
The 2nd part of our 3rd offering for XMAS 2016 on the specials front > Honest Jons, London shop turned label success story!!! :-)
FIND OUT ALL ABOUT OUR AUTUMN / WINTER SESSIONS & DON'T MISS A SHOW or TRACK - LIST WITH OUR NEW BLOG; Everything all in one place and with links for lots more from World Recipes to Cult Movie Recommendations & 101 Music Documentaries to keep you entertained - Our own mixes, guests mixes and digs galore so use the links provided and open a veritable can of musical worms to keep you busy!
autumnwintersessions2016.weebly.com - Full Schedules of ALL SHOWS of this season which runs until Jan 6th 2017 plus lots, lots more for you to explore! New Guests, New Concepts, New Features and New Mixes aplenty on the way.
There's also a few spotlight specials on the way :-) Keep 'em peeled!
Yet more late night audio adventures from leftfield ideal for acoustic astronauts up on a late one.
Normally Every Weds from 21.30GMT - 2 x shows over 2 stations = 1 magical musical journey from the far side of groove and chill
pt 1 21.20 - 23.30 - strangecargo.listen2myshow.com
then half hour break and over to
pt 2 00.00 - 02.00 - soullegendsradio.com
>>> to best stay informed use FB (personal contact) via facebook.com/mark.gardner.904108
The group "SugarBush" can be found here and always advertises the shows in advance, later placing archived copies of the recordings here also. facebook.com/groups/162259497305
We have old archived mixes, recipes and cult movie selections over at our rather old blog;
eclecticsundaysocial.weebly.com
All tracks compiled and mixed by
ADVENTURES IN SOUND (UK)
SImone White - St Louis Blues
Mayor's Dance Band - Bere Bote
Peverelist meets Tshetsha Boys
Cardinal Rex Jim Lawson - Owuna Derina
SImone White - Candy Bar Killer
Mark Ernestus - Mark Ernestus Meets BBC Version
Mark Ernestus Meets BBC - Ngunyuta Dance Remix [Honest Jon's]
Las Malas Amistades - Con Tu Forma
Las Malas Amistades - Duquesa
Elmore Judd - Air Makes My Day
Godwin Omabuwa And His Sound Makers - Dick Tiger's Victory
SImone White - Without A Sound
Simone White - Silver Silver (Honest Jon's Records) [1st track off Full Album]
Simone White - Every Little Now And Then
Moondog - Perpetual Motion
Etubom Rex Williams - Uwa Idem Mi
Las Malas Amistades - Ya No Quiero
Simone White - Silver Silver
Various Artists - Lagos Chop Up (Honest Jon's Records) [1st track off Full Album]
SImone White - Baby Lie Down With Me
SImone White - Train Song
Laurel Halo - In Situ (Honest Jon's Records) [1st track off Full Album]
Laurel Halo - Nebenwirkungen
Old Apparatus - Old Apparatus Meets Shangaan Electro
Anthony Shake Shakir - Anthony Shake Shakir Meets BBC
Nigerian Army Rhythm Group - Ebawa Se
Demdike Stare - Demdike Stare Meets Shangaan Electro
Las Malas Amistades - Tigre De Papel
Workers Brigade Band - Kpanlongo
Las Malas Amistades - Todo
Las Malas Amistades - Pico De Botella
Various Artists - Shangaan Shake (Honest Jon's Records) [1st track off Full Album]
MMM - Meets Tshetsha Boys [Honest Jon's]
E.T. Mensah And His Tempos Band - The Tree And The Monkey
Ricardo Villalobos & Max Loderbauer - Ricardo Villalobos & Max Loderbauer Meet Shangaan Electro
Moondog - Ostrich Feathers Played On Drums
R. Villalobos - M. Loderbauer Meets Tshetsha Boys - Nwampfundla Remix [Honest Jon's]
Las Malas Amistades - Si Se Puede
SImone White - Victoria Anne
Las Malas Amistades - Hombre-Perro
Pinch & Shackleton - Levitation [Honest Jon´s]
Simone White - What The Devil Brings
Las Malas Amistades - Mas Alla
Sir Shina Adewale - Awa Ni Superstars
Hype Williams - Meets Shangaan Electro
Simone White - In The Water Where The City Ends
Oliver De Coque - The Tragedy Story Of Two Friends
Wareika Hill Sounds - Joseph C
Wareika Hill Sounds - Sweet Incense
Las Malas Amistades - Luna
Las Malas Amistades - El Otro Dia
Las Malas Amistades - Vacio
Simone White - Big Dreams And The Headlines
Moondog - Fiesta Piano Solo
Las Malas Amistades - La Surenita Agradecida
Kenny Knotts Watch How The People Dancing with Version - Honest Jon's Records - DJ APR
Rocket Juice & The Moon - Rocket Juice & The Moon (Honest Jon's Records) [1st track off Full Album]
Lee Perry - The Return Of Pipecock Jackxon (Honest Jon's Records) [1st track off Full Album]
Martina Topley Bird - Some Place Simple (Honest Jon's Records) [1st track off Full Album]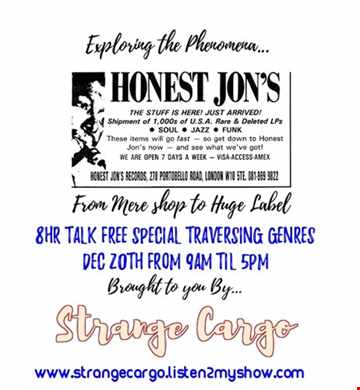 Statistics
| | This Week | Total |
| --- | --- | --- |
| | 2 | 282 |
| | 0 | 2 |
| | 0 | 0 |
| | 0 | 0 |
| | 0 | 0 |