Place time indexed comments here...
#WEDIGDEEPER S4 EP 12 With WOODZEE AND JOHN TREE in The Light & Dark Sessions from 05.10.19 - 45 mins a piece B2B, rinsed & repeated > Individual tapes with covers for each of tonights guests will be up on Mixcloud tomorrow :-)
Welcome to cassette ref's #SC423 & #SC424 with selectors WOODZEE & JOHN TREE and their 2 x 45 mins mixes each B2B, their perfect A & B sides to take you on a magical musical trip out of the light side and into the dark side.
Personally curated no rules musical appreciation and exploration across the genres, week in, week out from now til infinity with over 100+ international selectors scheduled for the next year
our Saturday evenings have just got considerably more lively.
Turn on, tune on & Bliss out with a little bit of expect the unexpected via
www.mixlr.com/strange-cargo-presents -
>>> You can catch WE DIG DEEPER - Season 4 - The Light & Dark Session (EPISODE 13 with MARK COOPER & JOHN PAYNTER) Next week (12.10.19) & then MORE each Sat eve from 7 til 10PM GMT and we have a huge expansive range of collectors from the world over coming to share thier loves and finds with you!
Each selector gets just 2 sides, 1 tapes worth of content to shine per year so you can expect ALL KILLER, NO FILLER content from the off and as we totally encourage all selectors to think outside the box, dare to take a risk
and show sides to thier musical spectrums that is probably not so well known.
7.00 - 7.45pm WOODZEE - OUT OF THE LIGHT SIDE
SIDE A - WE DIG DEEPER SEASON 4 - Week 12 - WOODZEE - The Light Side
Light side
Intro – Sample taken from One Strange Rock
1) Peter Gabriel – Sky Blue (MartyBn Bennett Remix)
2) Bluetech – Tranquility Gate (Mixmaster Morris Remix)
3) Unknown
4) Bharamji & Maneesh De Moor ft Sudha – La Illaha
5) Limborg & Barki – Mongolia
6) Parallel Worlds & Dave Bessell – Underclouds
7) Tangerine Dream – Bent Cold Sidewalk
7.45 - 8.30pm JOHN TREE - OUT OF THE LIGHT SIDE
SIDE A - WE DIG DEEPER SEASON 4 - Week 12 - JOHN TREE - The Light Side
Light Side
FLOAT YOUR BOAT
180 Gs - Christianity is Stupid
TOY - Rabbit Pushing Mower
FRED ASTAIRE - The W*y You Look Ton*ght (John Tree's Solvent Abuse Edit)
NILS FRAHM - Four Hands
MATERIAL (Ft. William Burroughs) - Words Of Advice
PETER THOMAS SOUND ORCHESTRA - Stars And Rockets
KIM HIORTHOY - Ting Som Virker
NICOLA CRUZ - Tzantza (Yor Kultura remix)
BONOBO - Flutter
ACID ARAB - Hafla (instrumental)
MAUOQ - Your Own (Arkaik Remix)
KINGS OF THE ROLLERS - Guitar Track
8.30 - 9.15pm WOODZEE INTO THE DARK SIDE
SIDE B - WE DIG DEEPER SEASON 4 - Week 12 - WOODZEE - The Dark Side -
Dark side
C90 Side 2: Dark Session
1) Shinkiro - One Part V
2) Skadi – Tears, Blood & Loneliness
3) Woob – Odonna
4) Murcof – Lully's Turquerie
5) African Headcharge – Unknown
6) Eraldo Bernocchi & Shinkiro – Bloody Footsteps on a Temple Ceiling
7) Beta Evers – In the Middle of the Night
9.15 - 10.00pm JOHN TREE INTO THE DARK SIDE
SIDE B - WE DIG DEEPER SEASON 4 - Week 12 - JOHN TREE - The Dark Side -
SUBMARINE DREAM
IDKANEVIL/DAISUKE TANABE - SGstep
MARIE DAVIDSON - Work It (Soulwax remix)
SUPER FLU - Lord Extra
OLIVER HUNTEMANN
Poltergeist (Maksim Dark remix)
Zombies In Miami - Dance Of Gopis
OLIVER HUNTEMANN - Der Schwarze Kanal (Carlo Ruetz Wilder version)
ICICLE - Arrows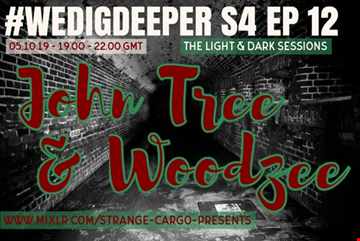 Statistics
| | This Week | Total |
| --- | --- | --- |
| | 6 | 153 |
| | 0 | 2 |
| | 0 | 0 |
| | 0 | 0 |
| | 1 | 1 |