Place time indexed comments here...
Boricua Madness - Vol 14 - A touch of Insanity Boricua Style is dedicated to my brother David Soto who passed away when God took him on a heavenly road trip back home to heaven on June_27_2019 ... ... ...
David was the true reason and inspiration for the Boricua Madness non-stop dance series, he was also the crucial ingredient to the Can't Get Enough series, David really knew how to challenge me with creating these mixes that we all learned to love and enjoy all around the world, especially on those long drives from New Rochelle NY to Florida which took him about 17 hours to complete without a single speeding ticket ... ... ...
David always knew that I have what it takes to mix these crazy ass non-stop Boricuas Madness Dance tracks, and this particular Boricua Madness Vol 15 is strictly for David's heavenly block party, today I celebrate his memory with this wild ass mix which will definitely make you all go HMMMMMM ... ... ... this is for you David, I MISS YOU BRO !!!!
Please download this new Boricua Madness track and share it with your friends and family, also add it to your "Tio Jay Salsa Party Mix and Dance Party Mix Collection", and only cue the ones you want for your very own Boricua Madness summer party ... ... ...ENJOY THE MUSIC !!!!
Now join me by raising your drinks to the sky and celebrating my brother David who continues to party with me in spirit on all of these new non-stop dance tracks ... ... ... so hurry up and get your drinks refreshed, and let's all have fun celebrating life to its fullest with this hot non-stop summer dance mix just like my brother David has always done, and will continue to do from heaven above ... ... ... David, you really took a huge piece of my heart with you when you departed ... ... ... ''I will see you later bro'' ... ... ... I MISS YOU DAVID !!!!!
QUE DIOS TO BENDIGA PARA TODA ETERNIDAD !!!!
I LOVE AND MISS MY BROTHER DAVID SOTO ... ... ...
R.I.P.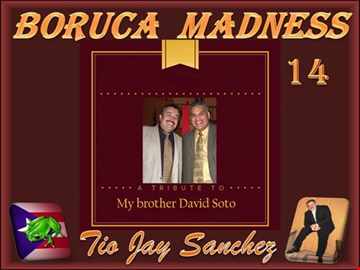 Statistics
| | This Week | Total |
| --- | --- | --- |
| | 40 | 645 |
| | 25 | 12 |
| | 1 | 19 |
| | 0 | 2 |
| | 0 | 3 |

See what others have also listened to