Place time indexed comments here...
13th Mix Of The Year!
I'm A Breaks DJ, But GOD Made Me Funky...
My Mom Raised Me With 60's Soul & 70's Funk & The Bible
I Made This Gospel House Mix (My 1st Ever) For Her This Mother's Day (Da FRESH Style)
I May Not Be An Amazing Superstar House DJ, But I Got A Praying Mother Who Believes
GOD Is Still God In My Life 2K21 :-)
"HAPPY MOTHER'S DAY" To My Praying Mom, Apostle Ida S. Mitchell !!! :-)
I Hope She Enjoys This Music Mix And Knows That I Love Her Very Much
- Thank U Mom,
LUV Tony
Your feedback is always appreciated.
If U like it, click the DL button & share.
Enjoy the free download of this mix.
Musical content property of artists featured in tracklist.
100% non-profit & promotional use only.
License & rights ownership Creative Commons.
Support the artists and buy their music.
Peace, Love & Praise GOD With Gospel House Funk !!!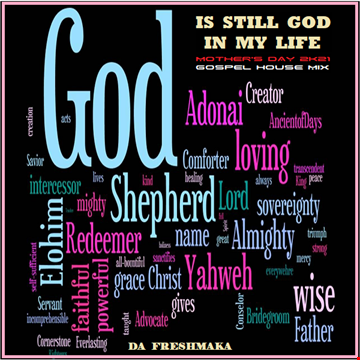 Statistics
| | This Week | Total |
| --- | --- | --- |
| | 254 | 254 |
| | 237 | 80 |
| | 8 | 8 |
| | 7 | 6 |
| | 7 | 6 |
See what others have also listened to