Place time indexed comments here...
THE INCREDIBLE SOUND MACHINE

DJ KURTIS MANTRONIK IS IN FULL EFFECT
KING OF THE BEATS WITH THE ROLAND 808
DO YOU LIKE... MANTRONIK? HELL YEAH!!!!
I'm about to run the gambit on a few of my fav Kurtis Mantronik produced tunes.
Mantronik was a master at creating electro infused hip-hop beats + hi-tech breaks.
However, DJ Mantronik also managed to put the club scene on alert with his style.
He may be the King Of The Beats, but how does his match up against others.
It's time 2 put some Mantronik Beats In Full Effect and see what happens.
I Won't Edit Mistakes.
I Won't Edit Mistakes.
These Beats R Seriously 4 Real & the Vocals R Clear and Chill
All Muzik Is Made, Edited or Remixed By The One... MANTRONIK
Just Another Little Freestyle Mix 2 Pass The Time.
I Hope You Enjoy The Music
Cause I'm About 2 Mix Up These Beats!!!
Courtesy of Your Freindly House-Mixes DJ...
THIS IS A FREESTYLE MIX SESSION USING VINYL & DIGITAL CONTENT... ENJOY!!!
I SURE DID, IT WAS LOTS OF FUN
This is the End of a Joyous Experiment
This Was The Last Mix
Long Live Kurtis Mantronik: King Of The Beats
I Don't Edit Mistakes
PEACE OUT...
Your feedback is always appreciated.
If U like it, click the DL button & share.
Enjoy the free download of this mix.
Support the artists and buy their music.
Peace, Love & Respect Ol Skool Beats!!!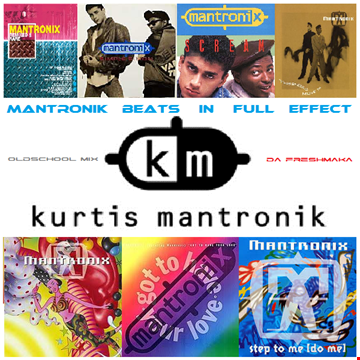 Statistics
| | This Week | Total |
| --- | --- | --- |
| | 52 | 1207 |
| | 30 | 24 |
| | 0 | 5 |
| | 1 | 11 |
| | 1 | 16 |

See what others have also listened to