Place time indexed comments here...
11th Mix Of The Year
More Bangin' Breakz & Bass 4 The Stay@Home Crew And Those Practicing Social Distancing
Like A Virus, This Mix Is Constantly Mutating-N-Morphing With Each & Every Track Selection

Created In A Secret Underground Lab, These Tunes Are Designed 2 INFECT & TREND Worldwide
Mixing & Mashing Highly Contagious Beats In "Da FRESH Style"... Enjoy The Music
This Is A Breakbeat Pandemic... Viral OutBreakz 2020 :-)
ARE Y'ALL READY 2 JAM AND HAVE SOME FUN ???
IT'S TIME 4 EVERYBODY 2 GET UP & DANCE NOW...
MUST BE THE MUSIC THAT'S GOT U INVINCIBLE !!!
NEVER GIVE UP, WE DON'T STOP, WE CAN'T STOP.
STAY SAFE, STAY ENCOURAGED + MUCH LUV 2 ALL :-)
Your feedback is always appreciated.
If U like it, click the DL button & share.
Enjoy the free download of this mix.
Musical content property of artists featured in tracklist.
100% non-profit & promotional use only.
License & rights ownership Creative Commons.
Support the artists and buy their music.
Peace, Love & Spread These Viral OutBreakz !!!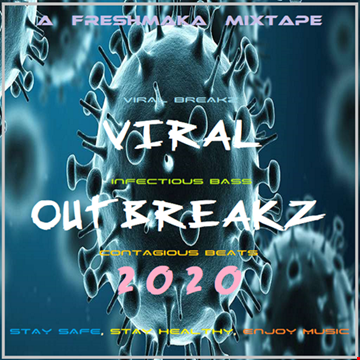 Statistics
| | This Week | Total |
| --- | --- | --- |
| | 48 | 597 |
| | 13 | 21 |
| | 0 | 10 |
| | 0 | 5 |
| | 0 | 9 |

See what others have also listened to