Place time indexed comments here...
Rolling them out in reverse order this time around and commencing with the 3rd part of 3 recordings taken from our 8th B'day celebrations < MARKING A RETURN TO THE AIRWAVES AND BACK ON SLR - EACH AND EVERY FRIDAY NIGHT > Commencing next week Sept 4th from 23.00 'til 01.00 AM UK time via www.soullegendsradio.com, For a weekly dose of left of leftfield alternative chill and groove from the far side, direct to your lounging spaces. Do hope you can join us for an entirely FRESH new batch of musical antics and eclectic crate-digging discoveries from the infinite world of music, as we kick off THE AUTUMN SESSIONS With The Spoonful of Sugar Club :-)
THIS SESSIONS TRACKLISTINGS BELOW:
Section 4: Sunshine Pop and Alternative Shades of Balearica
1.) Skinshape - Life & Love LP - Track 10 I Won't Be There
2.) Quattro 7" -
DISCODOR EP 2
WONDERFULSOUND
3.) The Beach - The Superimposers
4.) Skinshape - Life & Love LP - Track 03 Don't Call My Name
5.) Mariposa Lily
- Greg Foat
6.) Spring In Rome 7"
- DISCODOR EP 2
WONDERFULSOUND
7.) Punto y coma
- Eva Sierra y María Ruiz
(Live)
8.) Electric Garden -
Secret Circuit
9.) Dream Dub For Sarah -
Bal5000
10.) Jet stream
- Pacific
Section 5: World & Ethnic Chill Out
1.) Minuit Moins Une 7"
- Arielle
2.) Senza Titolo Due 7"
- Nicola Spiromarino
3.) Path Through The Forest- 7" -
Project Gemini -
The Ritual
4.) Monsters at Gardens End 7"
- Project Gemini -
Forest Creeper
5.) Buddha Bawdy - Mermaid Folk Tale
Section 6: Left of Leftfield Dancefloor Rockers & a Punky Killer Finale Track
1.) Dorothys Fortress - Theme From Phase IV - 7" Track 03 Coupe De Ville
2.) Mini
- Marius Circus -
(TCCG Outtake) (Demo Version)
3.) Enter Castillo -
Dorothys Fortress
4.) Unknown Location -
Lake Haze
5.) Night Noise - Monsterotico (Wave Mix)
6.) Dawl - Slave To The Soundwave
7.) Vapeurs d'Equateur
- Syracuse
Liquid Silver Dream
8.) Bocca Juniors - Substance (Boys Own 1991)
9.) Dayglo Maradona - Rock Section
Weatherall Remix
10.) Give Me Tonight (7 Inch version)
- Shannon
11.) On The Upside (High Drummer edit) -
Wonkar
(Produced by Shannon)
12.) Red Horizon Acid
- Lake Haze
13.) Linea Aspera - Antipodean Tedium
14.) Orbital Journey -
Theremynt
15.) The Day the World turned Day-Glo 7" -
X-ray Spex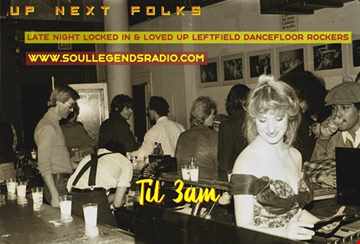 Statistics
| | This Week | Total |
| --- | --- | --- |
| | 12 | 176 |
| | 0 | 5 |
| | 0 | 2 |
| | 0 | 2 |
| | 0 | 2 |