Place time indexed comments here...
All back to mine for another late-night session of tales of the unexpected with a particularly spritely selection of handpicked audible niceties from the world of music > With
#strangecargo
@ the controls please do
#expecttheunexpected
as literally
#anythingmayhappen
> crate-digging adventures from the furthest reaches of groove and chill directly to your lounging spaces as broadcast via
www.risingedge.uk
, where you can find us bi-weekly up late and painting pictures with sound for music-daft lovelies mooching about for a break from the norm :-) Do hope you find something to enjoy in here and have a lovely end to the 2nd half of your weekend!
THIS WEEKS SELECTIONS: #strangecargo, #eclectic, #crates, #norules, #musicasmedicine
1.> Smith & Mudd - Fargesia
2.> What Is This Voice - Xenia Rubinos from Una Rosa
3.> Just a Sign
- Evan Wright from Sound From Out the Window
4.> General Elektriks - Seeker
5.> I Got The - Labi Siffre
6.> Johnny Bristol - Woman, Woman
7.> Culture - Love Music (Extended Version)
8.> Yasmine Hamdan - Deny
9.> Lola Marsh - Shes A Rainbow
10.> Good Things - Lee Perry from Born in the sky
11.> Guaglione
- Perez Prado
12.> Ambros Seelos - Joker
13.> The Aquarians - Bâyu Bâyu
14.> Done Gone
- Cameron Knowler
15.> Me and Bobby McGee
- Gordon Lightfoot
16.> Cherokee Bend - Gordon Lightfoot
17.> Deft - Before Vol. 2 - Umbo Skit
18.> Le Parasite - Gentle Robbery Anthem
19.> A Cosmic Gift - Hologram 7 - Blue Prism
20.> Marty Stuart - I've Been Around
Don't forget next Sat night from 21.00 is OUR MUSIC KNOWS NO BOUNDARIES then on Sun from Noon til 3pm expect the very best of back of the box delighting courtesy of VERY SPECIAL GUEST SELECTORS: STEVE OPTIX, EMILA HARMONY AND ADAM AMOS, with all the fun of the fayre and the very BEST way to kick start your sunday via www.risingedge.uk, where you would be MOST WELCOME!!!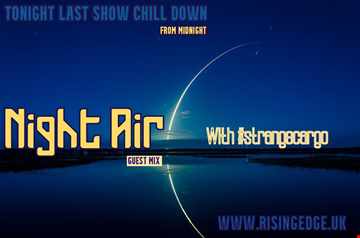 Statistics
| | This Week | Total |
| --- | --- | --- |
| | 31 | 198 |
| | 0 | 2 |
| | 1 | 1 |
| | 1 | 1 |
| | 1 | 1 |
See what others have also listened to