Place time indexed comments here...
Welcome to our 7th Birthday set & time to drag out a pile of much loved, pre loved vinyl for another airing.
Music as medicine and feel good Friday business all the way PLUS a BONUS unaired hour finale added to the end.
Mostly 7"'s, 1 sample, couple of private press bootlegs, lots of bargain bin action so expect flea market Funk and Car Boot Soul, there's some 60's Garage Punk, Sunshine Pop, Psyche and Breaks and Beats. Lots of focus on the raw, stripped back and snappy analogue drum beats to get you head nodding ;-)
Lots of our old faves in here, so do hope you find something to enjoy?
If you want to catch us live tune in Friday Nights from 11pm for all kinds of musically wonderful across the eras and genres via
WWW.SOULLEGENDSRADIO.COM > for 2 hrs left of leftfield musical excursions to the back of beyond & an entirely different kind of chill out
IDEAL FOR THE AURALLY INTREPID! :-)
Don't forget Sat nights we are running a BRAND NEW SEASON OF #WEDIGDEEPER > This time the Light & Dark Sessions meaning each selector
(of 2 per week) each get to produce 2 x 45 min mixes to represent just one tapes worth and bring us their perfect A & B Sides.
As ever, there are no rules, this is a place for the creators to create without limits or boundaries and do as they wish.
So please do expect the unexpected WEEKLY SAT NIGHTS 7 TIL 10PM UK TIME VIA
www.mixlr.com/strange-cargo-presents
2 New International Selectors weekly, all styles, genres and eras! THIS WEEKS GUESTS LYNSEY FINCH & MISSPLACED - Not to be missed stuff!!!
Do hope that you can join us and indeed find something to enjoy in here also! HAPPY WEEKENDS TO ONE AND ALL, THANKS FOR TUNING IN!
PLEASE FEEL FREE TO SHARE FAR AND WIDE TO YOUR NEAREST AND DEAREST, WEIRDEST AND BESTEST WITH OUR COMPLIMENTS!
THIS WEEKS SELECTIONS;
Barbara Dane
| Trouble in Mind
La Fille du père Noël (1966)
| Jacques Dutronc
Soul Survivors
| Impossible Mission Mission Impossible 1968
A Smile and A Ribbon
| Patience & Prudence
Been to Canaan
| Alice Babs
Sympathy For The Devil (Breakbeats Mix)
| Rob Tex
1 Thing - BC063-45 - Side A
| Bacao Rhythm & Steel Band
Maybe
| The Ohio Express
Wayne Fontana & The Mindbenders
| Um, Um, Um, Um, Um
KEEPIN' ME DOWN
| THE GRASS ROOTS
Hang On Sloopy
| Ramsey Lewis
The Letter (1969)
| The Arbors
The Walk
| Jimmy McCracklin
The House Of The Rising Sun
| Frijid Pink
Oh Yeah, Yeah, Yeah
| Vivian Carol
Bandido
| The Pastel Six
Help Me Girl
| The Outsiders
Try a little harder
| The Rolling Stones
Just You, Just Me (from the Befour album)
| Brian Auger & The Trinity
Going all the way
| The Squires
SAMPLE; Taken from DVD - Arnold McCuller
| THE WARRIORS OST - Nowhere To Run
Foot & Mouth
| 18 Speedometer
Oye Como Va
| Amral's Trinidad Cavaliers Steel Orchestra
12 Bootleg
| ADM ft Malcolm Catto
MRR
The Raven
| The Ironsides
Jano's Revenge
| Los Sospechos
M-Tri & DJ Leecy T
| 'Palo Santo (Original Mix)
Breathe
| Hoodna Orchestra
Accapella Witness the Fitness | Roots Manuva
Come And Give Your Love To Me
| New Colony Six
Is That Clear
| Nick Waterhouse
Beg, Borrow And Steal
| Ohio Express
Tokuta
| FELA KUTI- JUNGLE FIRE
What Time Is It 1970
| General Crook
I'm A Man
The Green Future
KING CURTIS & The KINGPINS
| Makin' Hey
Harper Valley PTA
| King Curtis & the Kingpins
Comencemos aka Let's Start
| FELA KUTI- JUNGLE FIRE
96 Tears - 1966 45rpm
| ? (Question Mark) & The Mysterians
DR. CALCULUS
| Perfume From Spain (Inversion) 12 1986
Freda Payne
| You Brought The Joy - 1972.
Wait Up
| Speedometer ft. The Speedettes
Theme From It's Happening
| Paul Revere & The Raiders
Descarga D'escargot
| Speedometer
I Never Loved Her
| Starfires
Rise Up
| The Freedom Affair
The Great Airplane Strike
| Paul Revere Raiders
The Hypnotic Eye
| Thought Machine
UNDECIDED (1966)
| The Masters Apprentices
On Nous Cache Tout, On Nous Dit Rien
| Jacques Dutronc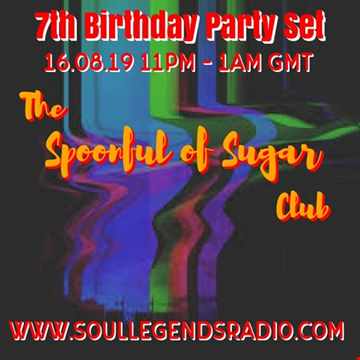 Statistics
| | This Week | Total |
| --- | --- | --- |
| | 102 | 388 |
| | 12 | 4 |
| | 1 | 2 |
| | 0 | 2 |
| | 0 | 1 |
See what others have also listened to