Place time indexed comments here...
24 well worn and pre-loved tracks from my living room to yours with love and best wishes for a TOP couple of days off! >>> Welcome to the sounds for this weekend with #strangecargo in the mix @ THE SPOONFUL OF SUGAR CLUB, a wee place of audible refuge for up late lovelies on the mooch seeking a break from the norm and some #alternative, #chillout antics, from the back of beyond directly to your lounging spaces WEEKLY FRIDAYS from 23.00 UK time for 2 hrs of #norules, #eclectic, #latenight malarky with Marky @ www.soullegendsradio.co.uk, where you would be MOST WELCOME to pull up a bean bag and indulge your eardrums with some truly #freestyle crate-digging adventures from the farthest reaches of groove & chill.
**DON'T FORGET - IT IS OUR REGULAR BI-WEEKLY NIGHT AIR GUEST MIX SLOT FROM MIDNIGHT,<TONIGHT> LAST SHOW OF THE NIGHT KINDA BUSINESS SAT 27TH NOV '21 VIA www.risingedge.uk**
Do hope you find something to enjoy in here, we will be back next week, with more of the same, albeit completely different of course!
Thanks so much for taking the time to listen, comment and share and wish you a safe, happy and peaceful weekend ahead :-)
THIS WEEKS SELECTIONS: #strangecargo, #eclectic, #norules, #chillout, #anythinggoes, #musicasmedicine, #crates, #expecttheunexpected, #hammocklife
Primal Scream
| Revolutionary
Failure (Alfie Remake)
| Kings of Convenience
It's No Good
| Depeche Mode
Special Agent Man (Female Version)
|
Gaznevada
Black Rite (1973)
| Mandingo
Tom Jones
| Looking Out My Window
Ray Rock Kick It
|
Ray Rock & KC
Doing It For Money
| The Aloof
Everything Is Fine (1990)
| Adamski
Keep It Up! (Chillin' Remake)
| YBU
His Name Is....
| United Future Organization (UFO)
Calling Aventura King
| Kid Loco
Stronger Together (Red Zone Mix) 1990
| The Chimes
Luz feat. Sol Ruiz De Galarreta
| Fous De La Mer
Elegant World
| Yoshinori Sunahara
The Adventure (1982)
| Marzio Dance D.J.
My Foolish Dream
| United Future Organization Feat. Monday Michiru
Loud Minority (Alex Reece Remix)
| United Future Organization
Voodoo Man Instrumental (1979)
| [Pitched down]
Biddu Orchestra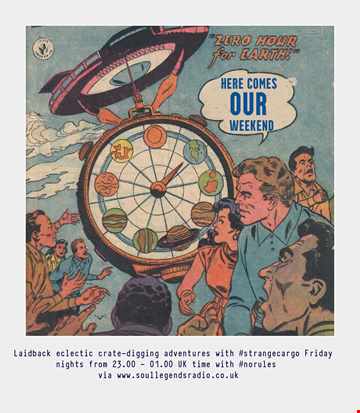 Statistics
| | This Week | Total |
| --- | --- | --- |
| | 214 | 214 |
| | 0 | 0 |
| | 0 | 0 |
| | 0 | 0 |
| | 0 | 0 |
See what others have also listened to