Place time indexed comments here...
Welcome to episode 5 of 12 of this seasons autumn sessions by STRANGE CARGO of The Spoonful of Sugar Club
A right old mixed batch of assorted beats and pieces from the world over direct to your lounging spaces,
EACH AND EVERY FRI 11pm til 1am UK time PLUS An Additional BONUS Hour for the Podcast massive, Unaired on the radio,
with our compliments and best wishes for the happiest start to a tremendous weekends chilling out.
As ever, please do expect the unexpected, this aims to be a million miles from normal, packed FULL of Utterly Eclectic

crate-digging adventures from all over the planet and aims to carve a musical soundscape suitable for kicking back and stepping off the world!
Please relax, sit back and enjoy........THIS IS STRANGE CARGO [ NO RULES RADIO ] FOR UP LATE LOVELIES ON THE MOOCH!
Don't forget you can tune in LIVE weekly FRI from 11pm til 1am UK time via
onlineradiobox.com/uk/soullegends
*We are now also doing a more uptempo residency, monthly, every 2nd Sat night of the month 9 till 11pm UK time via
risingedge.uk - for those that prefer things a little more dancefloor orientated, you would be MOST WELCOME to join us!
FRESHNESS GUARANTEED VIA OUR MUSIC KNOWS NO BOUNDARIES
#strangecargo, #expecttheunexpected
:-)
THIS WEEKS SELECTIONS;
Going The Distance
| Bill Conti
The Invisible Man
| H.G.Wells
Neighbourhood
| Unknown Artist
Secret Audience (1984)
|
Neuronium
Kung Fu:
| Caine vs Groupthink
Pierre Alain Dahan & Pierre Dutour
| Super Smog
Gentle_Stranger
| New_Insect_Lite
Yeah , Memories
|
Allison & Calvin Turner
Nostalgia
| Jean Louis Bucchi
Kitchen English
| Unknown Artist
Too Loose To Get Tight Part I [DECCA]
| 1972 SOD
California & The Slipping Of The Sun. | Gorillaz
Black Water Gold
| TR-140: Blue Rhythm Combo
Around Midnight
| Mladen Franko
Redd Holt Unlimited
|
Rhu
08 See It Thru
| NEVER EVER LAND LP
17 My Summer Prayer
| NEVER EVER LAND LP
Les Dunes D'ostende [Daughters of Darkness]
|
Francois De Roubaix
HOME - Odyssey
| 01 Intro
Dark side of the flower
| PASTOR JOHN RYDGREN
Numbers 1-4 | The Pengin Cafe Orchestra
RJD2-No_Helmet_
| Up_Indianola
Three Sided Coin
| Kate Tempest
The Book Of Traps And Lessons
2019
Deer forest
| Pierre Dutour
01 Wátina (I Called Out) | Andy Pacino
Mother of Pearl [Musikladen 1974-01-23]
|
Roxy Music
Rainforest
Andreas Georgiou
Francis Lai "Escapade"
| 2010 Strictly Breaks Records
United Village
| Unknown Artist
My Soul Unwraps Tonight
| Savage Progress
Amelia
|
Joni Mitchell
Hejira
Soldier Boy
|
Gorillaz
Rarities
2020
Fleance
| Third Ear Band
Mike_Slott
| Simple_Dreams_Of_Simple_Days
Branko & Dengue Dengue Dengue
| Lucuma
O M Permata
| Hidup Sunyi
Crystal Blue Persuasion
| The Kelly Bros
Find Yourself A New Thing
|
C. C. Jones
Ain't no sunshine
| Harlem Underground Band
Letter to the Editor
|
Thievery Corporation
Pull Up The People
| M.I.A
Janko Nilovic
| "Black jack party" 1973 Editions Montparnasse 2000
Mmariha
Durban City Queens
| African Vibrations, Original African Tribal Music, CD 03
MAKING ENDS MEET
| THEE MIDNITERS
The Five Canadians
| Don't Tell Me
Theme from Cleopatra Jones
| Joe Simon
Journey from the death of a friend (1972)
|
Terry Riley
Waste Away
| The Watchmen
Unknown Title - 1978
|
Yu Imai
Anjo's Irmãos (Rainer Trüby Trio Remix)
| Real Ibiza 3 LP
Story Book Plays
| Mike Ogilvie and The Blues Of Purple
People Make the World Go Round
| Ramon Morris
Summons to the Sacrificial Feast
|
Wilburn Burchette
Flowers In The Water (1980)
| Jeannine Otis & Heikki Sarmanto
Light My Fire
| The Thievery Corporation
Nautilus
| 1974
Bob James
Flat Man
| Elli Medeiros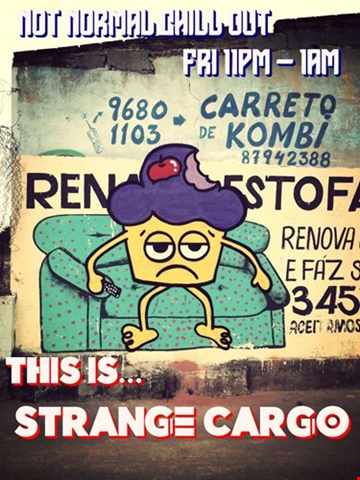 Statistics
| | This Week | Total |
| --- | --- | --- |
| | 28 | 185 |
| | 0 | 4 |
| | 1 | 1 |
| | 1 | 1 |
| | 1 | 1 |