Place time indexed comments here...
Kicking off the new year in fine style with 3 x heavyweight magical musical folk with audible treats to share.
60 MINS A PIECE B2B
> Not to be missed personalised musical journeying remembering and celebrating the mixtape culture we all grew up on, inviting selectors to really dig deep and give a spin to the dustier selections from the back of their collections. A sneaky peak into what is listened to at home and perhaps things one not might be known for or get to play out as part of their normal sets :-)
** AS BROADCAST VIA WWW.RISINGEDGE.UK**
#EXPECTTHEUNEXPECTED, #STRANGECARGO, #CRATES, #ECLECTIC, #NORULES, #ANYTHINGMAYHAPPEN
TRACKLISTINGS:
STEVE OPTIX 1st hr
Al De Meola - Love Theme From Pictures Of The Sea (1976)
U-Vox - 3 (1986)
Jonny Chingas - Phone Home (Instrumental) (1982)
Henry Mancini - By The Time I Get To Phoenix (1969)
Tuexedo Moon - (Special Treatment For The) Family Man (1980)
Clannad - I See Red (1983)
Hawk & Co - Nite Life (1981)
John Barry - Follow, Follow (1972)
The Ward Brothers - Madness Of It All (Instrumental) (1986)
Dwight Sykes - After Midnight (2012)
International Noise Orchestra - Far Away (2020)
The Cool Notes - Halu (Spring) (1985)
Orange Power - Magic Motion (1986)
Virgin Dance - Are You Ready (For That Feeling) (1982)
EMILIA HARMONY 2nd hr - [contact emilia direct, see details below]
ADAM AMOS 3rd hr
1) Soul Phiction - Midnight Funk Infinity (intro).
2) Tenderlonious - It's Almost time.
3) Mark Pritchard - Be Like Water.
4) Smith & Mighty - Walk On... (mellow mix).
5) Khruangbin - Sisters & Brothers.
6) Rosie Lowe - Birdsong.
7) Gil Scott-Heron - Message to the Messengers.
8 Sa-Ra Creative Partners - Rosebuds.
9) Deborah Jordan - Stay With You.
10) Session Victim - Isle of Taste (Patrice Scott remix).
11) I-Cube - Session 7.
12) Ken Dang - Born in Borneo (Jura Soundsystem Edit).
13) Marvin Gaye - Third World Girl.
14) Timeless: Suite for Ma Duke - Fall in Love.
15) Other Land - See Sharp.
Outro section #wedigdeeper from #strangecargo
Deviltone
Folclore Impressionista
Folclore Impressionista - A New Sensation: Music for Television
2020
Melancholy Glade
The Unseen
(Pitched up 18%)
The GOATMAN (OST)
2021
Bhuvar
Mungk
Temple Of Mungk
2021
rilly popping off
Dizraeli
The Unmaster - Remixes & Versions
2021
hr 1 Strange Cargo Guest Mix
DJ Steve Optix
https://www.facebook.com/steve.optix.1
or www.steveoptix.com
hr 2 EMILIA HARMONY GUEST MIX STRANGE CARGO
contact Emilia here [for tracklistings]:
https://www.mixcloud.com/emiliaharmony/emilia-harmony-for-we-dig-deeper-on-rising-edge-radio-160122/?fbclid=IwAR3wACnhpsiH5H4gN5lBOnDaczmeE-KUdr1iG5LO7Bfxjaan2_FVahfom3c
or here: facebook.com/profile.php?id=100007362795793
hr 3 Adam Amos - Trouble Transport contact here: https://www.facebook.com/mrafamos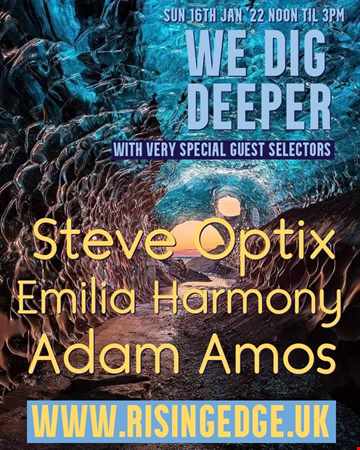 Statistics
| | This Week | Total |
| --- | --- | --- |
| | 77 | 417 |
| | 0 | 0 |
| | 1 | 1 |
| | 0 | 0 |
| | 1 | 1 |
See what others have also listened to