Place time indexed comments here...
Good Vibes - For the Love of Sir John Digweed
I've got the Power and the Passion!
WOW What a week it has been, this week I had the privilege to once again see one of the worlds and mine favourite DJ's John Digweed. He played an amazing set at a garden party in Sydney that brought the house down and all the old crowd came out of the wood work, and what a great time we had.
John and I where born on the same month of the same year on opposite sides of the planet, he a Hastings boy from England and me a descent of convicts sent to a greater country born in Wollongong Australia. John started DJ'ing at 15 me at 18, he and I both played at the local clubs and ran party's and thats where the parallels ended. He as you know went on to be discovered by the Renaissance Club and become the world renowned DJ today, I kept on playing the clubs for the next 25 years making people happy and getting them dancing.
So after the party I went home inspired in search of amazing new releases this week from the progressive, tech house genres and what came out is an amazing 2h30m journey inspired by the great Sir John.
Enjoy this weeks special inspired mix, Pete
Each week Good Vibes is released with a hand picked selection of the latest house tunes from around the globe.
Genre: Progressive | Tech House
Quality: 320 Kbps/44.1 kHz/Stereo
Length: 02:30:00
BPM: 125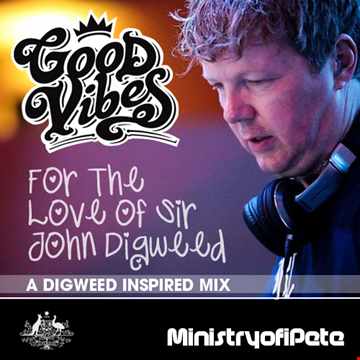 Statistics
| | This Week | Total |
| --- | --- | --- |
| | 17 | 5651 |
| | 0 | 395 |
| | 0 | 51 |
| | 0 | 18 |
| | 0 | 31 |