Place time indexed comments here...
Good Vibes #022 Lemon Lime
I bet your wonder how I know?
It doesn't matter who the DJ is, it doesn't matter what the crowd looks like, everytime we get together we are having a good time with house music.
Holding back the years, its not over, this weeks new releases are a bit of a throw back to old school, starting off with a nice groove then building in the middle upon reaching America.
We beg your pardin America, the party you gave this time was not yours to give, we call it due process, and some people are over due. Anyone who has been in congress 25 years and you never heard of them is called Oatmeal man. Do not pass go, go directly to goal, do not collect $200,000 dollars.
Enjoy the mix Pete
Leave a Comment, Like or Favourite, remember if you wish to be notified about new mixes click the follow button.
Each week Good Vibes is released with a hand picked selection of the latest house tunes from around the globe.
Genre: House / Funky House
Quality: 320 Kbps/44.1 kHz/Stereo
Length: 01:00:08
BPM: 124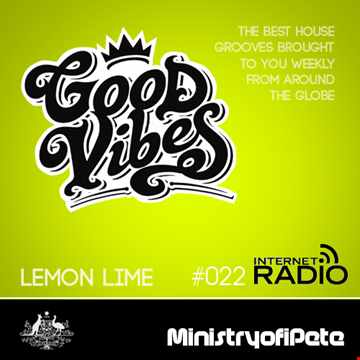 Statistics
| | This Week | Total |
| --- | --- | --- |
| | 10 | 1321 |
| | 0 | 92 |
| | 0 | 11 |
| | 0 | 7 |
| | 0 | 13 |