Place time indexed comments here...
Boricua Madness - Vol 18 - Quien te dijo de Boricua Madness is 70 minutes of non-stop dance music dedicated to my family, my friends and to everyone around the world who are home during this COVID-19 pandemic !!!!
Please download this new Boricua Madness track and share it with your friends and family, also add it to your "Tio Jay Salsa Party Mix and Dance Party Mix Collection", and only cue the ones you want ... ... ...ENJOY THE MUSIC !!!!
PLEASE join me and raise your drinks to the sky, let us all celebrate our brothers, sisters, mothers, fathers, cousins, extended families and friends, and to all of the health workers around the world I simply want to say THANK YOU for your bravery during the COVID-19 pandemic ... ... ... also take this moment to celebrate life to its fullest with this hot non-stop Boricua Madness dance mix :)
SPECIAL SHOUT OUT AND THANKs TO EVERY HEALTH WORKER AND CARE GIVER WORLDWIDE !!!!
SENDING EVERYONE MY LOVE AND WISHING YOU ALL PEACE AND HUMILITY DURING THESE HARD TIMES !!!!
GOD BLESS EVERYONE ... ... ... AND KNOW THAT BLACK LIVES MATTER !!!!
QUE DIOS BENDIGA A TODOS PARA TODA ETERNIDAD !!!!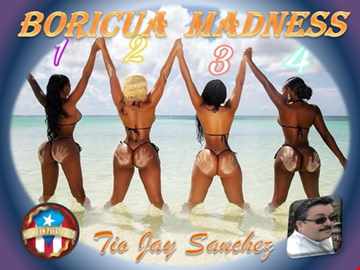 Statistics
| | This Week | Total |
| --- | --- | --- |
| | 58 | 411 |
| | 54 | 19 |
| | 3 | 20 |
| | 0 | 2 |
| | 0 | 2 |
See what others have also listened to