Place time indexed comments here...
Tributo a ls Salsa Part 64 - El Papa De La Mexcla Soy Yo is 102 minutes of super hot Salsa Gorda which is dedicated to everyone who is in need of some Non-Stop Salsa party music for 2021 ... ... ...
This particular Salsa mix will definitely help kick start 2021 while making it more memorable, it is what we all truly need world wide during this pandemic ... ... ... and this particular Nuyorican style non-stop Salsa mix will definitely have everyone worldwide dancing their butts off all night long ;-)
There are moments where we wonder if we will get through it all, well wonder no more anymore, Tio Jay has just raised the roof once again with a really kick-ass Salsa mix for 2021. The bar has been restocked for 2021, and the dance floor is also ready to be set on fire, so tell let us all kick this one into gear and crank up the volume ... ... ... let me hear you all say WEPA-WEPA-WEPA ... ... ...aqui si se formo el rumbon caribeno 2021 ... ... ...
So grab yourselves a nice cold drink, and raise it to the sky and let us all celebrate 2021 together ... ... ... and always remember to honor those that are no longer with us, and to never forget the memories they were all a part of as we go forward with building newer memories ... ... ...
Lastly and most important of all, know that every day is a good day for some Salsa soul healing ... ... ... and if you are ready to set the Salsa dance floor on fire, let me here you say WEPA ... WEPA ... WEPA ... ... ...
Con mucho amor y musica ''Tio Jay Sanchez" le desea a todos los Salseros y Salseras del mundo mucha felicidad lleno de Salsa y alegria, y que dios bendiga siempre a todos mundial !!!!''
WEPA ... WEPA ... WEPA ... ... ... Mi Salsa es para siempre !!!!
Saludos y Felicidades !!!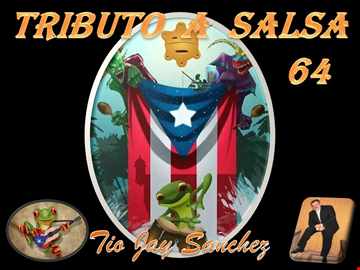 Statistics
| | This Week | Total |
| --- | --- | --- |
| | 88 | 88 |
| | 84 | 8 |
| | 5 | 5 |
| | 0 | 0 |
| | 2 | 1 |
See what others have also listened to