Place time indexed comments here...
20th Mix Of The Year
IT'S THAT SEASON AGAIN, THAT TIME OF THE YEAR...
WHEN YOU PLAY IN THE SUN AND SPLASH IN THE WATER...
FIRE UP THE GRILL AND CHILL OUT WITH SOME COLD DRINKS
LET'S GO, LOSE CONTROL... "TAKE IT BACK TO THE OLD SCHOOL FLOW"
KEEPIN' IT PHAT & FUNKY WITH MORE VOCAL BREAKS STR8 OUTTA ISOLATION
TURN UP YER VOLUME, PUMP THA BEATS & WAIT 4 DA BASS 2 DROP
ENJOY THE SUN, ENJOY THE MUSIC, CELEBRATE THE HOLIDAY WEEKEND & HAVE FUN
FRESH's Star-Spangled Booty Bumpin' 2020 Vol.2 [4th Of July Big Bang Mixtape] :-)

STAY SAFE, STAY HEALTHY, STAY STRONG & KEEP COOL WITH SUMMER BEATS
Congratulations LIVERPOOL FC PL Champs 19-20 "You'll Never Walk Alone" !!!
Your feedback is always appreciated.
If U like it, click the DL button & share.
Enjoy the free download of this mix.
Musical content property of artists featured in tracklist.
100% non-profit & promotional use only.
License & rights ownership Creative Commons.
Support the artists and buy their music.
Peace, Love & Enjoy SUMMER BEATS 2020 !!!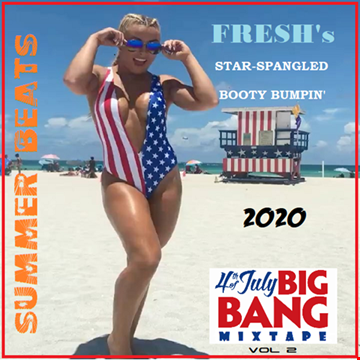 Statistics
| | This Week | Total |
| --- | --- | --- |
| | 46 | 316 |
| | 0 | 14 |
| | 0 | 4 |
| | 0 | 3 |
| | 0 | 3 |
See what others have also listened to