Place time indexed comments here...
Tributo a la Salsa Part 15 is 64 minutes of super hot non-stop Classic Salsa Gorda music guaranteed to definitely get everyone excited about Salsa dancing ... ... ...
This particular Salsa mix is another masterpiece of truly awesome classic Salsa Gorda tunes that continue to stand the test of time, and this collection was also taken out of storage and dusted off for all to hear and enjoy ... ... ...
This Salsa mix is for all to enjoy and play at your year end Christmas and New Year holiday party ... ... ... so hurry and put on your Salsa dancing shoes and get your drinks refilled because we are about to celebrate the holidays with the most awesome Salsa dance collection and ring in the new year with estilio !!!!
I want to thank god, my father and Uncle Ray Barretto for all of those wonderful gifts called memories ... ... ...
So without further delay, this one is dedicated to my familia ... ... ... this one is my Tributo a la Salsa Part 15 - Adiviname la mexcla !!!!!
Now raise your drinks and let us all celebrate a simple gift of Salsa from a simple man who loves life, loves his family, loves his friends and truly loves Salsa ... ... ...
THANK YOU DAD for blessing me with your gift of music, and with yet another year of HEART PUMPING SALSA ... ... ... GRACIAS PADRE !!!

And to the Salsa world I want to wish you a heart felt Feliz Navidad y Prospero Ano !!!!
M E R R Y C H R I S T M A S !!!!! H A P P Y N E W Y E A R !!!!!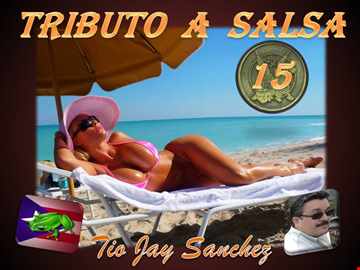 Statistics
| | This Week | Total |
| --- | --- | --- |
| | 10 | 1286 |
| | 0 | 54 |
| | 0 | 43 |
| | 1 | 1 |
| | 0 | 6 |

See what others have also listened to