Place time indexed comments here...
This mix is BROKE. Please see link below for working copy. Just choose Christ that's ALL you need to KNOW
https://www.house-mixes.com/profile/Tobit-3/play/tobit-presents---the-bridegroom-2

Andy Moor & Ashley Wallbridge, Dash Berlin, Above & Beyond feat. OceanLab, Barthezz and MORE...

Mathew 18:1-21 Revelation 4:6-8 6Also in front of the throne there was what looked like a sea of glass, clear as crystal. In the center, around the throne, were four living creatures, and they were covered with eyes, in front and in back. 7The first living creature was like a lion, the second was like an ox, the third had a face like a man, the fourth was like a flying eagle. 8Each of the four living creatures had six wings and was covered with eyes all around, even under its wings. Day and night they never stop saying: "'Holy, holy, holy is the LORD God Almighty,' who was, and is, and is to come."

The identity of the Twenty-four elders is not certain. Some think they represent the church or believers in heaven, but it seems preferable to view the elders as angels who comprise a heavenly ruling counsel. These elders function as ruling priests in the present age. Michael, otherwise known as Michael of Nebadon, OTHERWISE known to us as Jesus Christ of Nazareth is identified as one of the angels/chief princes. Michael has ALWAYS been chief. REVELATION 2:27"And he shall rule them with a rod of iron; as the vessels of a potter shall they be broken to shivers. Rod of IRON SWORD SPEAR you get the point.
The four living creatures are strikingly similar to the cherubim (angels) Ezekiel saw close to gods throne. Full of eyes means that these creatures see everything. The lion, calf, man and eagle have been understood as referring to the four Gospels with there distinctive portrayals of Christ. However, the description recalls the four cherubim in Ezek. 1:4-10, and thus the four figures probably represent the four different angels (Ezek. 10) These living creatures or angels seem to be associated with creation and it's ultimate redemption. Stick around EVERYHING you thought you knew is about to CHANGE.

I am the Alpha and the Omega, the first and the last, the beginning and the end.". "I am the Alpha and the Omega," says the Lord god, "who is and who was and who is to come, the Almighty.". Then He said to me, "It is done. I am the Alpha and the Omega, the beginning and the end. I will give to the one who thirsts from the spring of the water of life without cost.

A FRIEND once told me take your bed and WALK. But don't DARE RETURN. Back to that word opportunity.
EMBRACE IT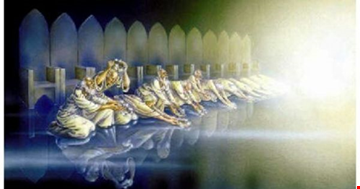 Statistics
| | This Week | Total |
| --- | --- | --- |
| | 18 | 240 |
| | 0 | 4 |
| | 0 | 3 |
| | 1 | 1 |
| | 1 | 2 |
See what others have also listened to