Place time indexed comments here...
Fresh beats pulled str8 from Santa's Christmas bag
These tunes are full of booty shaking holiday cheer
Get hype and turn up with Twixmas Breaks 2017 :-)
Mixed Live & Certified Fresh... on Christmas Day
Just 4 U 2 listen 2 between Xmas and New Year's
Celebrate the whole week with boomin' breaks & bass
Put this mixtape on loop and keep the party goin'
I hope you have fun and enjoy all the kool music
Wishing you a wonderful time this holiday season
Happy Romjul Bitchez, Cheers...
Your feedback is always appreciated.
If U like it, click the DL button & share.
Enjoy the free download of this mix.
Musical content property of artists featured in tracklist.
100% non-profit & promotional use only.
License & rights ownership Creative Commons.
Support the artists and buy their music.
Peace, Love & Respect Electro Bass & Booty Breaks !!!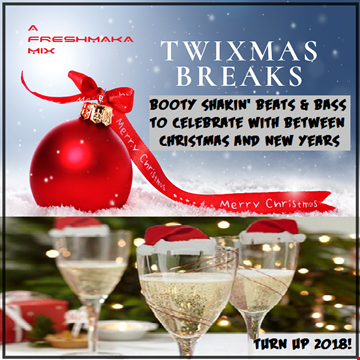 Statistics
| | This Week | Total |
| --- | --- | --- |
| | 40 | 1032 |
| | 0 | 38 |
| | 0 | 18 |
| | 0 | 15 |
| | 0 | 19 |
See what others have also listened to